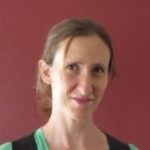 UCD/LBNL – Now at LLNL
Rhizosphere microbiome recruitment in maize: impacts of breeding and selection on P solubilizers
Email: vlbrisson@lbl.gov 
Education:
PhD – Civil and Environmental Engineering (University of California, Berkeley – 2015)

MSc – Biomedical Engineering (Carnegie Mellon University – 2003)

BS – Chemical Engineering (Carnegie Mellon University – 2001)
Research Interests: I am interested in understanding the recruitment and development of rhizosphere microbial communities.  A better understanding of the rhizosphere microbiome will enable targeted strategies to develop growth supporting microbial communities and allow for lower input, more sustainable agriculture.  Part of my work focuses on the recruitment of rhizosphere microorganisms by different maize cultivars along an evolutionary gradient under stress conditions, particularly in response low levels of bioavailable phosphate.  More generally, I am interested in environmental microbiology and harnessing microorganisms to do useful work.